Air Tightness Testing
Medusa Design now provides air tightness testing (also known as air pressure testing or air permeability testing) as an additional service on all new domestic dwellings.
Medusa Design are registered testers with BINDT (British Institute of Non-Destructive Testing) and all our testing complies with Approved Document Part L1A of the Building Regulations and is carried out to ATTMA TS1 standards using UKAS calibrated equipment.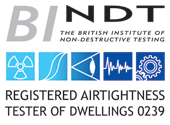 ---
What is Air Tightness?
The air tightness of a building is known as its "air permeability" or leakage rate and is the uncontrolled flow of air through gaps, cracks and holes in the fabric of a building, which may not be visible to the naked eye. This is not to be confused with ventilation which is the controlled flow of air through purpose built ventilators which are required for the comfort and the safety of the occupants.
The Leakage of air is measured through a door blower fan system which along with other UKAS calibrated equipment and gives the air permeability.
The measurement is calculated by-the leakage of air (m3/hour) in or out of the building per square metre of the buildings internal envelope at a reference pressure of 50 Pascal's between the inside and outside of the building.
In order to pass the air tightness / pressure test the air permeability must be less than or equivalent to the design air permeability figure stated in the SAP report.
Why do we need Air Testing?
Air tightness testing is a requirement for newly built homes under Approved Document Part L1A of the Building Regulations which came into effect on the 6th April 2006.
An air test rating is now mandatory in order to comply with this regulation; the rate your property will need to achieve will be determined in your Target Emission Rate (TER).
Building control officers will require test certificates from a registered testing organisation in order to fulfil all their requirements under the Building Regulations. Subject to a past test, you will be provided with a test certificate showing evidence that demonstrates the air permeability has been achieved.
If the dwelling should occur a fail we will provide you with a full onsite report pinpointing any unacceptable leakage, ready for all remedial work to be carried out in preparation for a re test.
What are the positive affects of Air Leakage control?
Presents a Unique Selling Point for the developer.
Fundamentally for the consumer, heating bills will be reduced considerably.
47% of the UK's CO2 emissions are from homes, this will drop dramatically.
Tests relate 'draughty' houses to illness and discomfort for the consumer.
Reduces noise transfer through the leakage paths
Helps prevent decline of the building fabric due to interstitial condensation.
When do you carry out the Air Tightness Test?
Before we can come and carry out an air tightness test we need you to check that the buildings are up to the required standard to achieve maximum performance. To aid you in this task we have produced a check list of all related issues:
Ensure all doors and any seals are fully fitted and working correctly.
Ensure all windows and seals are fully fitted and working correctly.
Ensure all electric fittings are fitted and working.
Ensure 240 Volt power is available on site.
Ensure all gaps are sealed in walls and floors
Ensure all bathrooms and kitchens have been fully installed and sealed.
Ensure we have access to all rooms on all levels.
Ensure that water is present in sinks, WCs etc.
Ensure all loft hatches are in place and closable.
If you require an air tightness test or require further information or would like a quotation please contact Lee French via the contacts page or telephone 01787 883339.