Services We Offer
---
Building Regulations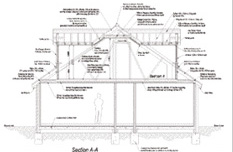 The Building Regulations are in place to ensure that all buildings are safe and fit for for their occupants. Continual revision is inevitable, as the nature of materials, designs and techniques is constantly changing.
Medusa Design can offer a full service of Building Regulation drawings and submit to the Local Authority for approval, for all types of building design.
We can produce plans and fully detailed drawings, specifications, calculations and other supporting material in order to obtain compliance with the current regulations. We will also produce professional on-site liaison with the local Building Control Officer so a Certificate of Completion can be issued.